A Personal Welcome from Letha . . .
I'm excited to be a part of a community of women who model commitment and care of others. The women of Illinois Church of God not only reach out to one another but also do a tremendous job of helping to care for the poor and needy in their communities, in our country and globally. I'm eager to partner with you to continue the great things being accomplished in the name of Jesus as we show His love to our world.
Purpose Women's Ministries exists as an avenue to empower women for Christian service. Around our world, dedicated women are making a significant difference by devoting their time, talents and financial resources to accomplish ministry. To help achieve these ministry objectives, we want to provide an atmosphere where women can:
*Mature Spiritually
*Develop their ministry and leadership gifts
*Contribute to the general welfare of home, church, community and world
*Support Benevolence and mission projects
"Serving Our World with Love."
Galatians 5:13
Women with a Mission (WWAM)
In 2020 – 2022 Women across the Church of God will once again partner with HOC to rescue those trapped in human trafficking. Our partnership matters!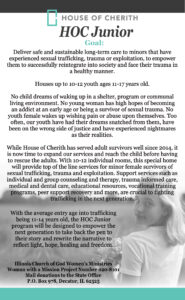 Click the image for resources from